Precision etched circuit products "CUME®"
Structure
Cu8 / base film / Cu8, no contact between film and Cu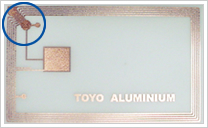 Example samples of contactless IC and tag antennas
Features
・Copper thicknesses can be changed at the request of users.
・Base film: PET, PEN, PP, PE, PS, PI, PVC, PETG, etc.
・Thinning of lines is possible. (Line widths and line spaces: 0.05 mm)
・Can be supplied in rolls. (Max. width: 250 mm)
* Please consult us regarding the detailed specifications, etc.