E-FOIL
Outline
Toyo Aluminium refers to its aluminium foils for batteries as "E-FOIL." These products make use of the fact that aluminium foil is characteristic for being lightweight, electrically conductive and easily workable. It is used in many different applications including as the positive electrode current collector material on lithium-ion batteries and as various other battery materials. We can propose material properties and developed products to suit the application.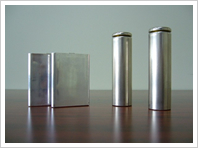 Features
・Positive electrode current collector on lithium-ion batteries
・Cladding material for lithium-ion polymer batteries
・Explosion-proof valves
・Electric double-layer capacitor current collectors
・Tab materials, etc.