Leafing ALPASTE®
Outline
In this type of paste, surface tension causes the aluminium flakes to float to the surface of the coating and arrange in parallel. This makes is possible to achieve a gloss similar to that of chrome plating. The leafing effect also means that the coated film has high reflectance and an excellent rust prevention effect. We have a wide variety of types available with different aluminium flake diameters and base solvents.
Structure
Standard Series
This product series uses stearic acid as a grinding aid and the particles rise to the surface of the coating film due to surface tension. Medium-grain particles are often used in anti-corrosive and heat resistant paints, while small-grain particles are frequently used for offset ink and other applications.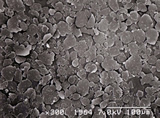 High Gloss Series
This leafing type has high gloss due to careful pulverization. It has smooth particles with uniform particle sizes. The high gloss properties are put to use in applications such as automobile reflectors.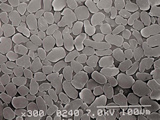 Schematic diagram of leafing aluminium paste
color tones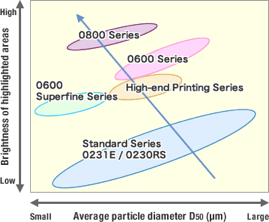 Untreated leafing type
Standard Series
Product name
Base solvent
Average particle diameter
D50(µm)
Water covering area
(cm2/g)
0300M
M
16
10.000
0100M
M
10
13.000
0700M
M
8
19.000
0231M
Ink oil
8
30.000
High Gloss Series
Product name
Base solvent
Average particle diameter
D50(µm)
Water covering area
(cm2/g)
0870MS
M
10
24,000
30T
T
15
30.000
0670TS
T
4
70.000
* M: Mineral spirit, T: Toluene