THERMAL GIPS® <Free-use type>
Free-use type (for fingers and toes, for upper limbs, for lower limbs, for noses)
Superb breathability!
Large 450 x 300 x 5 mm type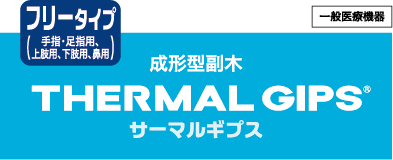 Outline
●

Wrist and ankle splints that use aluminium-containing thermoplastic resin.

●

Soften in hot water of 60°C or above.

●

Superb breathability without being sticky!

●

They are light and secure reliably.

●

Can be reinforced by overlapping and adhering more material.
Features
1. Can be cut to any size for a precise fit

Provided in large sizes so they can be used on a wide range of locations. Furthermore, because they are made of thermoplastic resin, they become soft and freely shapeable when immersed in hot water.

2. Superb breathability

Superior breathability is achieved through a three-dimensional mesh structure.

3. Sanitary, because they can be worn while taking a bath

They do not deform at bath water temperatures. Breathability is good, so they dry relatively quickly.
How to use

Other use methods
Wrist + thumb

U-shaped securing

Ankle securing