THERMAL GIPS® <For noses>
Precise fit!
For nasal bone fractures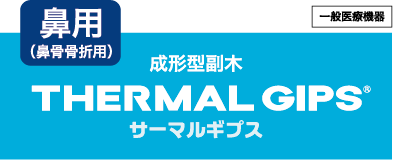 Outline
●

Nasal bone fracture splints that use thermoplastic resin containing aluminium particles.

●

Soften in hot water of 60°C or above.

●

Size: 10 cm x 10 cm x 2 mm per sheet, 2 pieces per sheet

●

They can be remolded. (However, they can only be used once.)

●

Perfectly fit subtle curves of noses.
Features
1. Cut to size for a precise fit

Include graduation lines for selecting sizes S, M, L, or LL to create the optimal size for use. Furthermore, because they are made of thermoplastic resin, they become soft so their shape can be freely controlled when immersed in hot water.

2. Superior heat dissipating properties

Because they are made of aluminium-containing resin, thermal conductivity is 4 times that of other company products.

3. Sanitary because they can be washed

They do not deform at bath water temperatures. They can be kept sanitary because they can be washed.
How to use