We identified material CSR issues for the Toyal Group in fiscal 2017. Material issues were identified after they were analyzed on the basis of stakeholders' expectations as well as materiality assessed from our own viewpoint. The five CSR issues shown on the right were found to be material. Governance is at the heart of addressing these material issues.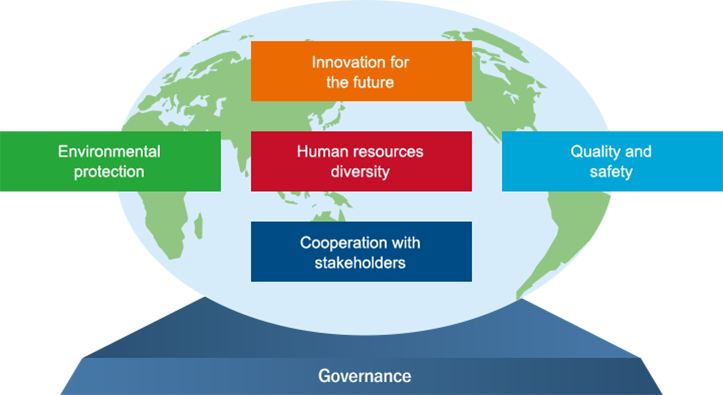 Innovation for the future

We believe that our most important social responsibilities are to provide new products and services that meet society's needs, help solve issues facing the world in order to pave the way to a sustainable society, and create economic value. In the market, where technological advancements are rapidly heating up the competition, first movers get the lion's share. Working against this backdrop, we will think outside the box and push the envelope in our aluminium-based business as we move ahead at full speed to build a brighter future and create value.

Environmental protection

We process aluminium made from the mineral bauxite to produce materials for various products. That takes huge amounts of natural resources, energy, and chemicals in operations that we realize impact the environment. That's why we ensure that our operations are in harmony with the global environment.

Human resources diversity

Three key phrases represent the current status of the business environment in Japan, i.e. globalization, declining working-age population, and diversifying personal values.
In working against this backdrop, we are forging a work environment that puts a premium on job satisfaction, personal growth, and support for various work styles that will contribute to sustainable business practices and a sustainable society.

Quality and safety

We are committed to making and providing products that are safe, satisfying to customers, and beneficial to society.
Our workplace motto, "no safety, no production," instilling a safety-first attitude in our employees sums up the foundation of our operations. Ensuring both product and workplace safety is job one for manufacturers who are responsible corporate citizens.

Cooperation with stakeholders

We place importance on working with all stakeholders, including customers, local communities, governments, NPOs, and employees, to create innovations and maintain sustainable business operations while helping to build a sustainable society. We actively engage in stakeholder dialogues with an eye to enhancing our corporate value.